The chilly temperatures in Fresno didn't keep thousands of people from attending the annual Hmong International New Year celebration Dec. 25, 2015 through Jan. 1, 2016. Considered the largest festival of its kind in the United States focusing on Hmong culture and tradition, the event attracted people from around the world to the Big Fresno Fair. For the second year in a row, First Financial Security, Inc. served as a Platinum sponsor for the festival in honor of FFS' Hmong business partners.
First Financial Security, Inc. Co-CEOs Phil and Debbie Gerlicher, as well as Director of Marketing and Communications Laura Manzer, were at the fairgrounds, helping out at the First Financial Security booth that was manned by FFS agents from throughout the country. The Fresno celebration is one of many new year festivals scheduled from July to the end of the year in several U.S. cities. This year, First Financial Security expanded its sponsorships to include events in Denver, San Diego, St. Paul, and Anchorage.
As Phil Gerlicher explained, sponsoring these events is a natural extension of First Financial Security's long-standing relationship with the Hmong community and FFS' Hmong Business Partners.
"We (First Financial Security, Inc.) celebrate our 10th anniversary in business this year," Phil said. "Many of our most successful leaders are from the Hmong community and have contributed greatly over the years to our success. Our Hmong business partners been with us every step of the way as we've worked to bring financial security to all people. Our participation in these events is our way of thanking them for their support and loyalty."
Hmong International New Year was created to help preserve the Hmong culture, tradition and heritage for future generations. This year's event was especially important as it marked the 40th anniversary of the Hmong Refugee Settlement in the United States. Among the 500 booths offering traditional food, drinks and clothing, as well as natural medicine, was a special display – Hmong Story 40 – detailing the people's rich history and struggles, including the war that drove them from their homes in Laos, Vietnam, China and Thailand to new ones in America.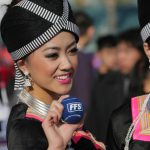 Many of First Financial Security's agents were among the people who resettled in this country in the mid-1970s. Through their association with FFS, these Hmong business partners have built successful careers in the financial services industry. Today, they share their good fortune with the people of their communities by providing access to financial education, innovative financial products, and the same FFS entrepreneurial opportunity that has allowed them to start their own businesses.
"We've seen firsthand through our long involvement with the Hmong community the impact on a family's future when they gain the knowledge of how money works and the tools to put their money to work for them," Phil explained. "We are proud of our association with this community and look forward to working with them to bring financial security to even more Hmong families in the future."