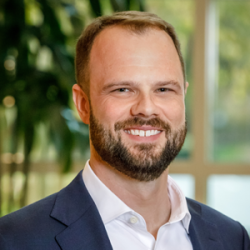 Andy Cowan spent more than 15 years in the financial services industry, most recently as Training Coordinator for Columbus Life, before joining First Financial Security, Inc. His depth of knowledge and expertise, along with his years of experience working directly with FFS agents, made Andy the perfect candidate to help us expand and improve our agent training. He was brought on in October of 2021.
After starting his career in banking, Andy made the switch to life insurance when he saw the impact a policy can have on a family:
"When I was managing a bank fresh out of Ohio State, a young mother came in with two children. She was distraught as she told me her husband had died the day before. Looking at their finances, it was clear they were in a tough spot. I — unwisely, I now realize — asked about life insurance. He had a $10,000 policy through work, but that was barely enough for the funeral. As she left, I let her know she could reach out if I could help her, and she told me frankly that it was too late. Right then, I realized I wanted to be in the business of preventing that situation for as many American families as possible."
"Andy is a tremendous asset to our team," said President Vince Rokose. "He focuses on increasing sales results by improving our agents' product knowledge and selling skills. His successful sales experience and ability to teach insurance concepts at all levels combined with his established relationships with our agents across the country enables him to have an immediate impact on our sales results."
With his talent for training and his enthusiasm for helping families through life insurance, Andy is an outstanding recent addition to First Financial Security, Inc.