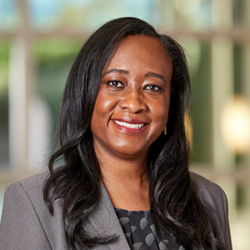 Thorough. It's probably not the first word that comes to mind when describing First Financial Security, Inc.'s Manager of Corporate Development, Cavelle Francis. You might think instead of her warm smile or friendly spirit. But Cavelle says it's this hidden talent – her thoroughness – that's been invaluable not only in doing her job but also to becoming a trusted resource to First Financial Security's field representatives.
"I like to see things through, so everything is all tied up in a bow," Cavelle says. "I keep everyone informed and make sure the circle is closed. Attention to detail is one of the strengths I bring to my job. Our associates know that I will assist them in any way I can to help them build their careers."
In her role with the company, Cavelle is involved in all aspects of the Operations Department. She has led several teams during her time at FFS, and in each of those roles she has always worked to find innovative ways to better serve First Financial Security's field associates.
While her roots are in the island nation of Trinidad and Tobago, Cavelle grew up in a close-knit family in Westchester, NY. After earning a degree in Business Administration at Iona College, she had the opportunity to work for Market Research firms in several states before her family relocated to Georgia.
Cavelle has the distinction of being one of the first employees hired when First Financial Security opened its doors in 2006. She enjoys the camaraderie and family-like atmosphere in the Home Office.
But the thing she likes best about her job is the interaction with field representatives.
"I like helping our people," Cavelle explains. "I'm proud of their success. This is one industry where you get to see the fruits of your labor."
In her spare time, Cavelle, who lives in Covington, is a voracious reader and loves all kinds of music.