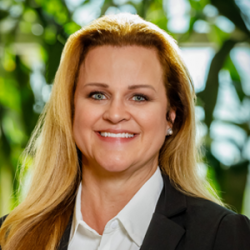 Almost everything that makes it to the web for First Financial Security, Inc. goes through Jennifer Pierce first. As Manager of Web + Social Media, she publishes updates to our websites and makes sure the FFS social media accounts are always posting content that is engaging, timely and relevant. She has also revolutionized our Marketing Department since she joined at the start of 2022, streamlining processes and even bringing aboard a new work operating system for our content team.
"Social media and websites keep me on my toes," she says when asked why she loves her job. "Technology and algorithms are constantly changing, so there is a continued cycle of learning that must happen to keep on top of this ever-changing world. These digital products are like puzzles when trying to figure out how all the pieces should and can fit together."
Luckily for us, Jennifer likes puzzles — and she is good at them, too. Before FFS, she was a digital product developer at a non-profit organization, where she taught herself to build websites, online assessments and apps for the public good. Though she had never officially managed social media before she joined FFS, she was already more than qualified from her years of hands-on digital experience. Best of all, she was up to the challenge. It was a clear fit from Day One.
Jennifer lives with her husband and two sons in their metro Atlanta home, where they are constantly moving from one DIY project to another. In her spare time, she is also a life coach, helping those who feel stuck to find the strength, courage and confidence to move forward and find accomplishment in their lives. She leads her life by one of her favorite quotes, from Roy T. Bennett: "Don't be pushed around by the fears in your mind. Be led by the dreams in your heart."