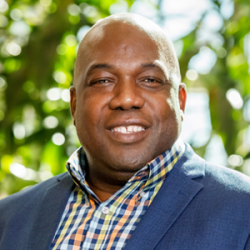 An alternate title for Lorenzo Cooper might be "Director of Office Positivity," as he has been one of the great uplifting forces of our headquarters at First Financial Security, Inc. since he started in December of 2021. From the moment he stepped foot in our office, Lorenzo has been behind almost every gift, every celebration, and every smile amongst our corporate staff. If there is a treat in the break room, it is probably Lorenzo who brought it there.
Not only is he full of vibrant energy, but he is also immensely qualified to be our Manager of Performance & Growth — his true title — which he earned after 16 years of experience in financial services and a BSBA in Management from the University of Central Missouri. After becoming licensed in life insurance, he worked across every department in the industry, most notably as a Marketing Director managing support, education, training and guidance to countless independent financial services agents. With his strong work ethic, depth of industry knowledge, exuberant attitude and constant smile, Lorenzo has become an essential asset to our field leaders in just a short amount of time.
Still, the important thing for Lorenzo has always been working at a good company, where he can use his experience to make a positive impact in people's lives. "I think this position was created just for me," he says of applying his talents to our vision of bringing all people financial security and peace of mind. His passion and skill set have made him a perfect fit at FFS, working alongside Director of Performance Dave Wild and Director of Field Operations Jay Hosier to provide top-tier support to our field associates and help each agent build the best business possible.