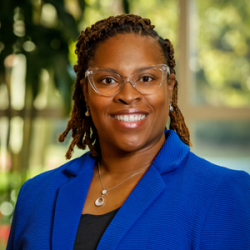 For self-described people person Octavia Gibbs, the "I love the people I work with, "Octavia says. "I enjoy the one-on-one interaction that I am able to have with the employees and field leaders. I also like being in a position to affect positive change."
"Our field leaders are working hard every day to build their businesses and help their families and their clients achieve financial security and peace of mind. Anything we can do to help them succeed is the icing on the cake."
Octavia is organized and a planner by nature, traits that have served her well at First Financial Security, Inc. and earlier in her career. Prior to joining FFS, she spent four years as a Program Director for the Salvation Army. Her position was part of a government-funded grant program created to assist homeless or at-risk individuals and families find housing. Through the program, Octavia and her team were able to help more than 2,000 people in 18 months secure stable housing. When the grant ended, so did her position, and that led her to FFS.
"I was looking for that 'next' thing I was destined to do, and along came this company," Octavia explains. "I became fascinated by First Financial Security's goals and its desire for everyone to gain financial literacy. I knew this was the place where I would plant my next seed and watch it grow."
Octavia's organizational skills also come in handy in her most important role as mom to her three boys. She, her husband, Michael, and the boys live in Atlanta where they enjoy bike riding, hiking and traveling.