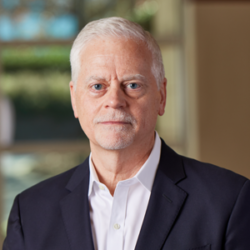 It was the powerful potential of the business model that first attracted Phil Gerlicher to First Financial Security, Inc. (FFS). When he was approached to become involved with the company, Phil took a hard look at the organization, and he liked what he saw.
"I had been familiar with this particular business model for almost 10 years," Phil says. "I was intrigued by the spectacular successes of similar companies in an industry that prides itself on controlled and predictable growth."
"I also knew that one of the most serious challenges facing the insurance industry then and today is its inability to bring new people into this business. It's a tough sell, unless you have an exciting and innovative value proposition and marketing system. First Financial Security has both. We give everyone who wants it the opportunity to participate in the American Dream of owning their own business."
Phil began pursuing his own American Dream shortly after graduating from the University of Oregon. He took a job in the auditing division of a mid-sized bank holding company, and his more than 30-year financial services career was underway. But it quickly became clear that the corporate world was not the right fit for a person with ambition and drive.
A conversation with his father-in-law convinced Phil that becoming an entrepreneur with his own business was the path he should take to create wealth and security for his young family. Together, they purchased a small manufacturing company. Even though it was a short, four-year run, it provided valuable lessons and experience that have served him well over the years.
From there Phil took a job selling life insurance to the customers of a small Savings & Loan. He has been in the insurance industry in one form or another ever since.
His three-plus decades as an entrepreneur and business owner have helped shape his personal values and develop the business skills necessary to lead FFS through the initial start-up and early hyper-growth phases. Phil's primary objective during his tenure as CEO has been to prepare First Financial Security for the next generation of management by building and shoring up the foundations of operational support, IT, systems and core field leadership.
Working with First Financial Security's field leaders has been a source of enjoyment and pride for Phil and his wife, Debbie Gerlicher. Both work hard to ensure that the organization's focus is on its field representatives first, providing them with everything they need to be successful.
"We believe that one of the keys to our success as a company is our commitment to building trust with our field leaders," Phil explains. "Trust is earned, not simply given. Many of our leaders had experienced disappointments with their previous companies. It was critical that we delivered on our promises. One of these was making the Equity Share program a reality."
Phil believes that First Financial Security's future is exceedingly bright. He works closely with the Corporate Leadership team and field leaders to identify and capitalize on opportunities for great growth. He is determined that FFS will change the face of insurance through visionary leadership, innovative thinking and an unwavering respect for the people the company serves.
"I've learned over the years that business is a full-contact sport. It's all about the last man standing. We are a determined bunch here at First Financial Security, and it appears that, quite simply, it is now our turn. "