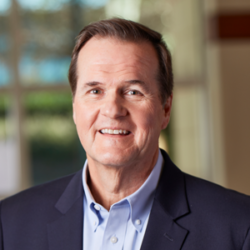 Ron Wheeler's relationship with First Financial Security, Inc. began long before he came onboard in 2019.  When CEO Phil Gerlicher first saw the FFS opportunity, he called Ron to ask his opinion. Since the earliest days, Ron has provided strategic advice and counsel through every phase of the company's growth. Ron has been a speaker and MC at numerous FFS events, adding his strong industry voice to those of our field leaders.
Ron got into the insurance industry in 1980 because he needed a job to pay for college, saying, "I wasn't one of those people who read up on the opportunity, knew everything about it and was all in. At the start it was just a business. Then I paid my first death claim and the business got into me. I've loved it ever since." He was promoted into management after three years with American General, leaving after eight years with the company. He leveraged his experience by starting MKI, a brokerage operation for independent agents and financial institutions based out of Missouri.
Since then, he has served in several leadership positions advocating for the insurance and financial services industry. He served on national committees for the National Association of Insurance and Financial Advisors (NAIFA) and as the President of the Missouri association. He also served for years on the advisory board of the Missouri Department of Insurance, Financial Institutions and Professional Registration. These experiences have given him a depth and breadth of perspective on the challenges and opportunities in our industry at the regional and national level.
His service, however, has not been restricted to our industry. "I have always believed in servant leadership. Don't listen to what I say, watch what I do." It's that spirit of service that spurred Ron to lead hundreds of middle and high-school aged youth at annual retreats for the Lutheran Church as a member of the Missouri District Youth Board for over 30 years. In addition, Ron serves on the Board of Directors for the Lutheran Church Extension Fund, chairing the investment committee. The Lutheran Church Extension Fund is a $1.8 billion fraternal financial institution that works with the Missouri Synod Lutheran Church
Ron lives in Missouri with his wife, Liz. They have two children, Mary and Peter.