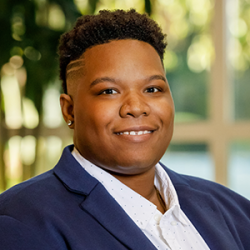 Shea Cadogan loves to watch people succeed — "I've always been that type of person that loves helping people," she says. Helping people has been the focus of her time at First Financial Security, Inc. since she joined in 2018 as an Agent Services Specialist.
Before her time at FFS, she worked for another insurance company, starting as a Call Center Specialist and moving up to Manager within three years. She used this upward experience to excel quickly at FFS — it didn't take long before Shea was an Agent Services Team Lead, and then finally a Manager in November 2020.
Happiest when her team and agents excel, Shea loves to watch agents get tangible results like getting Commission Qualified and hitting milestones for recruiting or selling. Her goal is to ensure every agent who calls has a good experience, leaving pumped up and excited to build their business in the field.
Her day-to-day duties include coaching each Agent Services specialist and working with them hands-on to solve problems for agents in need. She serves as the guide to get her team better results, and she loves the rapport she gets to build within her department.
Her passions include cooking and football — in her free time, you can catch her making a good meal and sitting down to watch a Giants game. She also loves to travel, and those who know her well are never surprised to find her vacationing across the country. Experiencing new cultures first-hand has been important to her since she was young, and she loves tasting good food from around the world.