Like any major purchase, buying life insurance comes with its own risks and challenges. While you may be confident comparison shopping your next car or finding the home of your dreams, life insurance can be tricky to navigate without expert guidance, especially when overall financial literacy is less than stellar.
To make this process easier, we outline five of the most common mistakes people make when purchasing a product that can last them anywhere from a few years to a lifetime.
1. Buying for Price

Like with so many purchases, you get what you pay for in life insurance. Price is only one factor. Consider the life insurance company's financial strength and reliability as well. Look at the policy's guaranteed features and do your best to compare the same terms across providers. For term policies, compare the premium costs with the same death benefit, weighed against the insurer's rating against competitors. Your goal is to get the best benefit, at the lowest price, for the longest term from a company that you'll be comfortable dealing with for many years.
We recommend consulting a professional to help you compare products and features that meet your needs.
2. Only Buying Term Life

Term life insurance is a great option if you only need coverage while your spouse and/or children are dependent on you, or until you've set aside enough to provide for your family in the event of your untimely death. If you do need life-long coverage, however, term life is not a great bet. With extended life expectancies, today's 30-year term policies are not necessarily going to cover your remaining lifespan.
Permanent insurance can offer immediate funds to beneficiaries upon your death, has a variety of tax benefits and can include living benefits. If you suffer a critical illness while alive, you can use your policy to pay for medical expenses or help your family handle the loss of your income during your illness. The added protection may be the peace of mind you need when buying life insurance.
3. Buying Too Little Coverage
Buying the right amount of coverage means taking your family's unique needs into account. How much money will it take to replace your income? How long will they need that same income level? Do you want to provide enough to pay for your children's college? What about paying off your house or existing debts? At minimum, coverage needs to cover funeral expenses, which can be more costly than you might expect.
Don't leave your family's protection to chance. Ask your FFS agent for a custom needs analysis today to find out how much coverage you need.
4. Buying Life Insurance Only Once in a Lifetime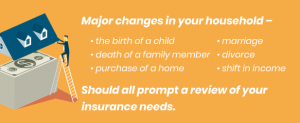 Just as your family's needs change over time, your life insurance needs may change as well. While you may have been concerned about your kids college funds when you bought the policy, now you may be focused on your retirement needs. A term life product that looked perfect when you were younger may be less appealing as you face the possibility of outliving your policy.
Take a look at your insurance needs with your FFS Agent every few years. Major changes in your household – the birth of a child, marriage, divorce, death of a family member, purchase of a home or shift in income – should all prompt a review of your insurance needs.
5. Canceling a Policy Too Soon
If you're switching policies, make sure that your new policy is in force before the old one expires. Never leave a gap in your coverage.